Exceptional outdoor living for every taste and budget.
Have more time to do what you love on a Fiberon composite deck. A high-performance, eco-friendly wood alternative, Fiberon decking offers the warmth and appeal of natural hardwoods without all the time and expense of maintenance. Choose from a wide range of colors and finishes to suit your style and budget.
SYMMETRY DECKING
Symmetry Decking offers the most natural look, feel, and color palette available today in luxury composite decking, all balanced with time-tested durability and performance.
The low-gloss formulation and unique micro-texturing process create a beautiful matte finish. Multi-tonal streaking echoes elegant hardwoods. And the colors? Inspired by natural elements and pigments, the palette is subdued yet striking.
Equally impressive is the uncompromising performance and easy maintenance. Our four-sided PermaTech cap layer resists fading and staining, while the durable composite core means no splintering, cracking, insect infestation, or decay.
COLOR OPTIONS
---
---
HORIZON DECKING
From its dramatic color tones and multiple wood grain patterns to the polish and protection of capping on all four sides, Fiberon Horizon® Decking is the composite deck board for those who won't compromise.
Horizon is capped (or covered) on all four sides with PermaTech® surface material and never needs sanding, staining, or sealing. Four-sided capping increases durability, enhances stain and fade resistance, and ensures a polished appearance all around. Plus, Horizon boards feature two different wood grain patterns on the top and bottom for more design options and less material waste. All this, and at a price that is comparable to others' non-reversible boards.
COLOR OPTIONS
---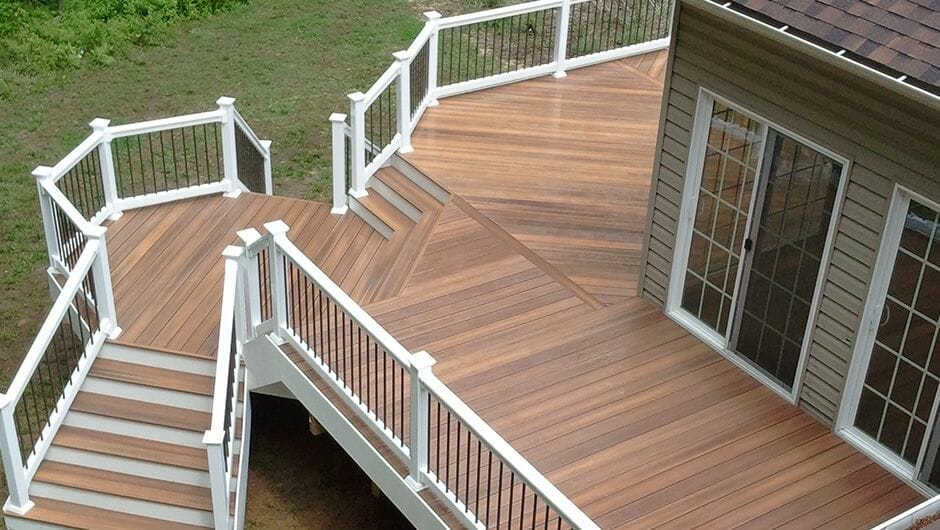 ---
PRO TECT ADVANTAGE DECKING
With its gorgeous colors and multi-tonal streaking, ProTect Advantage® Decking looks like premium hardwoods. The difference? These boards feature a three-sided PermaTech® cap layer for exceptional stain and fade resistance. The solid composite core resists splintering, cracking,and decay, while a 25-year warranty provides added peace of mind.
And if you live in a wildfire-prone region, consider ProTect Advantage FR Decking. You'll enjoy all the beauty and benefits of original ProTect Advantage plus the comfort of knowing the "FR" boards have been tested and approved for use in Wildland Urban Interface (WUI) zones.
COLOR OPTIONS
---
---
GOOD LIFE DECKING
Fiberon Good Life Decking offers the low maintenance of a composite at a price that's closer to wood.
Capped on three sides with a tough protective finish, Good Life Decking resists staining and fading. And with its solid composite construction, you can say goodbye to rotting, warping, splintering boards, too.
There's more good news. Now Good Life Decking is available in three rich, multi-chromatic colors as well as our original solid shades. These new colors, Beach House, Bungalow and Tuscan Villa, rival the look of tropical hardwoods while our tried-and-true originals, Cabin and Cottage, resemble traditional painted wood.
Turns out the good life is actually pretty great.
COLOR OPTIONS
---
---